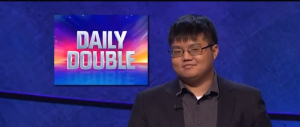 The number four all time Jeopardy champion is establishing himself as a voice on Asian American issues, reports NBC.
Chu gained notoriety for his unorthodox Jeopardy strategy that earned him $298,000 in winnings earlier this year after 11 straight victories. Five months have gone by, yet he still finds himself in the limelight.
He's become a frequent contributor to various blogs, espousing his views on Asian American issues.
"I've always been an opinionated person and an outspoken person," Chu told NBC. "It sounds narcissistic and maybe it says something about the culture that we live in, but in a weird way, people of my generation are already used to this."
He says he's tackled race and gender issues because very few others will and he happens to personally be passionate about those issues.
"I became an icon in the Asian-American community — which is crazy, I still find that funny — partly because I was controversial and there are so few Asian-American celebrities who are openly controversial and who embrace that."
What do you think? Has Arthur become an icon in the Asian American community or is that his narcissistic side talking?
Read his thoughts on  NBC and then share your thoughts below.