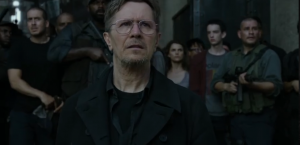 Did you hear that Asian Americans have fled San Francisco en mass?
I didn't either, but apparently my eyes must be deceiving me or the producers of the Dawn of the Planet of the Apes know something the rest of us don't. The movie, in case you didn't know, is based in San Francisco.
Leland Lee in a blog for 8 Asians engaged in a game of Asian counting while watching the movie. He didn't say anything about the quality of the movie, but he must not have been enthralled with it if he had time to count all the Asians.
Actually he says it didn't take that long at all. The movie he said had exactly one Asian.
What period of time was the movie set in? In the trailer there's a quick shot of the Transamerica Pyramid Building which was built in 1972.
So what was that Asian doing in the movie?  You can read about that in 8 Asians.