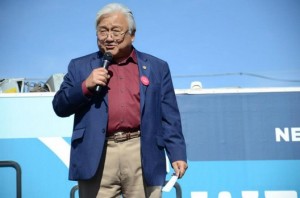 Buzz Feed reports that the Tea Party Express is being asked to support challenger Ro Khanna against long time incumbent Mike Honda in the race for Congress in California's Silicon Valley.
The Tea Party has tentatively agreed to send out a mailer to its supporters in an attempt to raise $50,000 for Khanna. The request comes from a former Republican representative from the district who was ousted in a primary against a fellow Republican back in the 80's.
"I contacted my old campaign manager at the Tea Party Express in Sacramento for help. I asked him about sending out a mailer to the voters on what Honda has been doing," Ernie Konnyu wrote. "His Tea Party Express is willing to do that mailer provided we cover the postage, printing, and handling expenses. As you probably know it's expensive. Printing, postage and handling can cost perhaps $0.50 cents at minimum or $50,000 for 100,000 letters."
The mailer for money emphasizes Honda's strong support from the unions. Meanwhile, the Khanna campaign is trying to distance itself from the effort.
"Ernie has publicly endorsed Ro and we're happy to have his support," said campaign spokesperson Tyler Law. "That said, he is acting on his own."