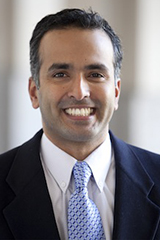 Karthick Ramakrishnan whose known to many in the Asian American community for his in-depth research of Asian American voting patterns has been named to the California Commission on Asian and Pacific Islander American Affairs.
The University of California, Riverside political science and public policy professor was appointed to the 13-member commission by Assembly Speaker Toni G. Atkins (D-San Diego).
The Commission's goal is to examine how the state can better fulfill the needs of the diverse Asian Pacific Islander American communities.
"Asian Americans and Pacific Islanders are the fastest-growing groups in California, and I am thrilled to join the commission to be able to offer my research expertise and advice on how to address the diverse needs of this population," Ramakrishnan said.
You can read more about his background and goals during his term on the Commission at the University of California, Riverside.