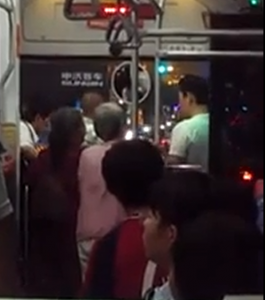 The ugly American, in this case, the ugly Asian American is going viral on You Tube.
The Shanghaist reports a passenger got upset when the driver missed his stop and then began to verbally assault the driver.
The video is hard to watch and includes a lot of four letter words. At one point, it looked like the passenger was going to physically attack the driver, but restrained himself.
I'm amazed at how much other passengers got involved, trying to calm the ugly Asian American. When it looked like he might get physical, little ladies about half the size of the irate passenger ran up to the front of the bus to calm the situation.
You can read a bit more about who the passenger was and who he was with in the Shanghaist .
The video of the incident is below.
Update: Jason has reportedly issued a public apology.