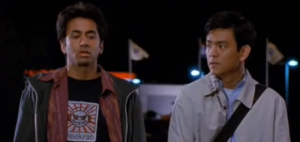 It seems like the most unlikely of pairings. An Indian American actor paired with a Korean American and both in title roles. I say unlikely because Hollywood shies away from casting Asian Americans in lead roles, let along two Asian Americans.
As unlikely as it seems, Harold & Kumar have become part of American pop culture.
It's been ten years since Harold & Kumar Goes to White Castle was released. Two sequels later, people still talk about the pair.
On the surface, its just a stoner movie. But underneath it all, it has a much larger significance. It broke Asian American stereotypes and the characters were two people audiences really cared about.
You can read James Shotwell's homage to Harold and Kumar Goes to White Castle in Under the Gun Review
Check out three of the best scenes from the movie in the clip below.