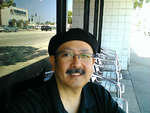 Gil Asakawa released his book Being Japanese American in 2004. It is now being updated with new stories and gives a glimpse of how life in the Japanese American community has changed in ten years.
Below is an interview with the author who is asking for help in preparation of the updated edition of Being Japanese American.
Describe your book, Being Japanese American and when did it first come out?
Being Japanese American is sort of an outgrowth of my blog, Nikkeiview.com. It's a personalized explanation of who JAs are, and why we're not quite Japanese and not always accepted as Americans. It's a celebration really, of our culture and community. It was published in 2004 by Stone Bridge Press in Berkeley.
Have there been any updates since it was first published and why
are you updating it now?
It's been reprinted over the past decade but I'm now working on revisions and additions. I think it's a good time for Being JA v2,0 because it still sells steadily but things have changed since I wrote the original manuscript. References to Jpop or anime, and websites I included in the list of resources need to be updated. And I'm revising the intro and adding an afterword that will address the past 10 years of our community. That includes not only the JA community but our place within the larger AAPI community. Thanks in large part to social media, Asians in America have a much more visible profile than we did just a few years ago. And I think Japan as a country has reached out much more to Japanese Americans. I also want to emphasize the aspect of travel to Japan more — I think it's important for JAs to visit the country of our roots (and too many don't want to).
How will Being Japanese American be different today than it was
when it was first published?
Stone Bridge will redesign the book and I assume give it a new cover (hate that goofy pic of me on the back!) and it'll obviously be longer. I'm also looking forward to a new ebook edition.
How has the Japanese American community changed since your book
first came out.
Sizewise it's probably about the same or even smaller — unlike other AAPI communities, Japanese immigration hasn't grown, and Japanese still have a big out-marriage rate. But I think younger JAs especially identify more as Asian Americans first these days, and we have ever more mixed-race JAs. Many of them are very interested in their cultural roots, so they're helping to keep alive traditions and values even as they bring multicultural values into our community. And of course, many of the Nisei (the JA's "greatest generation" have passed away, so there's a growing gap of continuity between the civil rights activism of the past and the social justice issues of today. At the same time, there's more awareness than ever before about the JA incarceration experience from WWII, so that's good.

How well or how poorly have Japanese Americans done in terms of
retaining the Japanese American culture since your book first came out?
I wrote back then that I saw fourth- and fifth-generation JAs in some cases being more interested in Japanese culture than their parents, and I think that's been true. All things Japanese (Asian, really) are even more hip and mainstream today than when the book first came out, so there's great interest and acceptance of the cultural traditions.
I think overall, the future generations of JAs have embraced the community's historical culture. In organizations such as JACL, I see lots of younger members taking on leadership roles, which ensure the future of these orgs.
And even though JAs are building bridges with and into the wider AAPI community, and the ethnic JA enclaves of Japantowns are evolving and becoming less JA-owned but still rooted in the community, many of the events and traditions that makes the JA culture unique are still going strong. For instance, I wish I lived in Southern California for the summer Obon season, or for LA's Nisei week, or Northern Cal for the many JA events in the Bay Area!
You are asking readers to fill out a survey? Tell us about and how
can people participate?
One of the fun features of "Being Japanese American" was the inclusion or marginalia — asides put into shaded boxes in the book's margins — that were excerpts of quotes and comments from JAs (and a Japanese Canadian who, sadly has since passed away). For that first edition I reached out using the Internet to ask people to send me photos and answer some questions about their identity.
Now, in the social media era, I'm able to post an online survey and get the word out on Twitter and Facebook and other platforms and reach many more JAs. I've already received input from older Nisei (second gen), younger Yonsei (fourth gen) and a lot of mixed-race JAs, and many more people from Canada than the first time around (it helps that a Japanese Canadian publication Nikkei Voice, publishes my babbling monthly). I'm not sure how many excerpt Stone Bridge will be able to use, but every survey response helps me get a better handle on the diversity and intelligence of the JA community!
When do you anticipate the update edition to be available for purchase?
The revised edition of "Being Japanese American" is due to be published Fall of 2015.