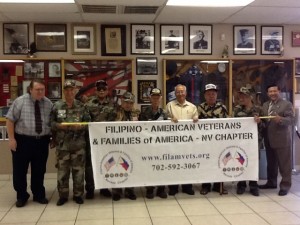 Scholars from the Massachusetts Institute of Technology and the University of Maryland are joining the effort to gain recognition for Filipino WWII veterans, reports the Inquirer.
They will conduct research documenting the veteran's service to the US Military. The announcement was made by retired US Army Major General Antonio Taguba who lead the investigation into human rights abuses by US Serviceman in Iraq during the Bush Administration.
Supporters want to convince Congress to award the veterans the Congressional Gold Medal.
260,000 Filipinos fought for the US during WWII and were promised equal treatment with American veterans, but Congress passed the Rescission Act in 1946 stripping them of both recognition and benefits.
After a long campaign by the veterans, Congress approved one time payments of $15,000 to those Filipino veterans. Unfortunately many of the claims were denied when the US refused to accept records from the Philippines as proof of service.
You can read more about what the scholars will be looking for during their investigation in the Inquirer.