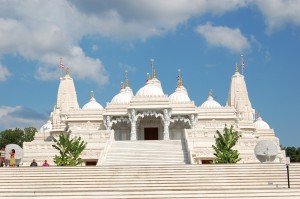 Although Christianity is far-and-away the largest religion in America, a look at the second-largest religions in each state gives us a better idea of the diversity of this country's religious landscape.
For one, Hinduism is the second-largest religion in both Arizona and Delaware, reports the Huffington Post.
The increase in the religion's prominence in more recent decades is a result of the influx of Indian immigrants, according to Caleb Simmons, a religious studies professor at the University of Arizona.
"It's important with a group like Indian Americans, who are such a small minority, that when they immigrate they can be together with other South Asians. The temples are cultural centers as well as places for people to worship," Simmons said.
Asians are among the fastest growing demographic groups in Arizona, with 45,682 respondents in the 2012 American Community Survey indicating that they were Asian Indian. In Delaware, residents of Indian origin make up the state's largest Asian group, growing 116 percent between 2000 and 2010.
But Indians are not the only group practicing Hinduism in America. As many as 1 million Hindus in America are not of Indian origin, according to a 2008 estimate by the Hindu American Foundation. One notable example is Samoan-born Representative Tulsi Gabbard (D-HI), who in 2013 opted to be sworn into office on the Bhagavid Gita, a sacred Hindu text.
You can read more about Hinduism's growing prominence stateside on the Huffington Post.