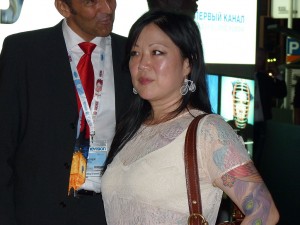 Korean American comedian Margaret Cho recalls when she was getting started in comedy in the club circuit and Robin Williams was often there giving his support.
She wrote about her fond memories of Williams in Time.
Both Cho & Williams have a San Francisco connection. Cho's
parents owned a book store in San Francisco and she performed in the comedy clubs there. Williams also got his start in the San Francisco comedy scene.
"He was the patriarch of our little clan of comedians in San Francisco," wrote Cho.  "All of us looked at him, in a way, as a father figure. That's why this is so upsetting. He was just very supportive. He was very shy, and possibly a little embarrassed by his fame. Inside, he really was a comic.
You can read about her best memories of Williams in Time."