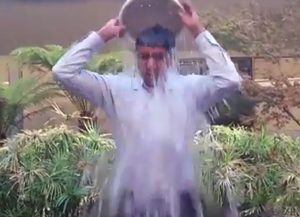 Challenger Ro Khanna has issued a fun but chilly challenge to incumbent Mike Honda in the 17th Congressional District race in California's Silicon Valley.
Khanna is daring Honda to dump a bucket of ice water onto his head or donate $100 to the ALS Association to benefit the fight against Lou Gehrig's Disease.
Here's video of Khanna getting into the spirit with an ice bucket dunking of his own.

So far $11.4 million dollars has been raised through ice bucket donations in less than three weeks.