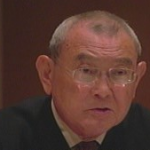 Two Japanese American pioneers say they faced discrimination and overcame stereotypes in their law practices before becoming judges, reports Discover Nikkei.
Judge Wallace Tashima (pictured left) was the first Japanese American appointed to the Court of Appeals. Judge Fred Fujioka (pictured right) is with the Los Angeles County Superior Court.
They shared their stories with Sakura Kato, an intern with the Nikkei Community Internship which places its participants into community organizations in the three remaining Japantowns in the United States. Those are Nihonmachi in San Francisco, Little Tokyo in Los Angeles and Japantown in San Jose.
"Americans couldn't think that judges could look like me, lawyers that look like us, they couldn't even think of Americans who looked like us," said Judge Fujioka.
"But [the Nisei soldiers in WWII] proved and showed to others what Americans look like, and that's profound because without them doing what they did, I couldn't be what I am now," he said.
Judge Tashima recalled a time when his law practice was under geographic restrictions because of discrimination and none of the big firms would hire him.
"Japanese lawyers, all of them, had their offices in Little Tokyo, and all the Chinese lawyers had their office in Chinatown" when he was in law school in the late 1950s and early 1960s.
"Their practice was confined to the local ethnic community…because it was still a time of, at least in the business community, very overt racial discrimination."
You can read about Kato's experience with the Nikkei Community Internship and what she learned from her experience in Discover Nikkei.