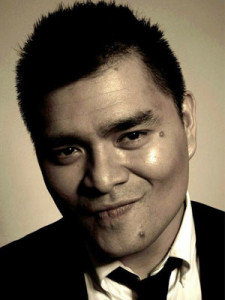 Two Asian Americans in the public limelight talked about revealing the very personal secrets in their lives at the Asian American Journalists Association Gala Scholarship and Awards Banquet Saturday night in Washington, DC.
Journalist and immigration rights advocate Jose Antonio Vargas and actor Maulik Pancholy who played Jonathan in TV's 30 Rock also urged the reporters, producers, editors and photographers in attendance to tell the stories in the Asian American community that make a difference.
The two spoke separately in sit down interviews in the mostly filled banquet room at the Renaissance Hotel.
Vargas commented on his decision to come out, first as a gay man in his teenage years and then more than a decade later as an undocumented immigrant.
"I came out gay first because I could do only one at a time," said Vargas. I was in California. If I was in Kentucky, we might be having a whole different conversation."
He said he regrets not telling friends and mentors earlier that he was undocumented.
"I was scared shitless," admits Vargas, but added the decision gave him an awesome feeling of freedom.
"I feel like I'm owning up to who I am."
Pancholy told the assembled crowd that "he's proud of who I am and to use
that to change the world means a lot to me."
In addition to 30 Rock, he played Sanjay in Showtime's award winning dramedy Weeds, starred on the NBC comedy Whitney and provided the voices for Sanjay on Nickelodeon's hit animated series Sanjay & Craig and is the voice of Baljeet on the Disney Channel's Phineas & Ferb.
He was recently appointed by President Obama to the President's Advisory Commission on Asian Americans and Pacific Islanders.
Like Vargas, he made the decision to come out as gay.
"I feel like acting is a way to disappear," said Pancholy.  "Protecting myself seemed less important than having a career. It was more important to be honest."
He said in the late 90s he played some questionable roles that could be criticized as stereotypical. He recalls playing a turban wearing foreign exchange student in which his character's ethnicity was fodder for comedy.  As Jonathan in 30 Rock, his South Asian heritage is acknowledged but not the focus of the comedy.
Pancholy thinks Hollywood needs to educated that white American men aren't the only relatable characters. He pointed to Kerry Washington of TV's Scandal as proof audiences will respond to good characters and acting regardless of their ethnicity.
The actor considers himself a story teller and compared that to the role of journalists.
"We get to tell stories and the importance of telling a story can't be stressed enough. Talk about them, get them out there. Don't be afraid to do good," Pancholy implored the journalists.
Vargas picked up on the same theme saying "AAPI journalists have an obligation to connect the dots–a real responsibility to contextualize the stories. Our job is to tell the most insightful story we can."
He gave journalists a grade of a C, C+ for their coverage of immigration issues.