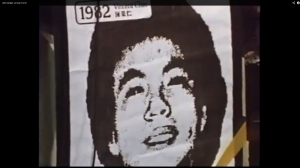 In an apparent dispute among artists, a mural painted just this past June in Detroit honoring Asian American icon Vincent Chin has been defaced, reports Motor City Muckracker.
The mural is part of a community project designed to spruce up drab buildings with works of art.
Baltimore street artist Gaia painted his tribute to Vincent, a Chinese American beaten to death in a racially charged incident in 1982. Gaia used a space that had been the home of another mural done three years earlier by an artist known as Sintex. It is Sintex who is buffing over the Chin Mural to put up one of his own.
His actions has many who have worked on this community project baffled.
"Sintex has known that our plan was to rotate murals every few years," Derek Weaver, founder of the Grand River Creative Corridor Project said. "He gave us his blessing and met Gaia. We talked to the owner, Red, and told him the story of Vincent Chin. He was moved by the story and agreed to the memorial."
Sintex has a history of controversy. You can read about that in Motor City Muckracker.