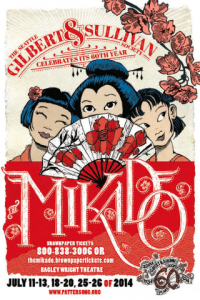 Hundreds of people attended a forum held in response to the uproar over the Seattle Gilbert & Sullivan Society production of The Mikado Monday night.
Sharon Chang sitting in the audience was driven to tears, still carrying the hurt caused not only by the production, but by the tone & the direction of the discussion Monday.
Seattle Times editorial writer Sharon Prian Chan had a different take. It was Chan's editorial four weeks ago which sparked the outcry over the cultural insensitivity of the production and the use of a nearly all white cast in yellowface for The Mikado.
 Her report on the forum struck an objective tone while Chang in her blog Multiracial Asian Families bluntly stated "it did not go well."
Mike Storie, a producer with Seattle's Gilbert & Sullivan Society did not join the forum on the stage, but did attend and made a brief statement.
"I can see that it does hurt somebody," Storie was quoted in the Seattle Times as saying about his recent production of The Mikado. "There's no way I as a white man can get in the head of somebody who is Japanese. Nor can someone get into my head as a white man."
Storie however still defended the production, according to Chang, saying he had Japanese friends who weren't offended by the show. "Nobody's forcing you to go the show," Chang quoted him as saying.
Many of those on stage stressed it was important for producers to be aware of those in the community who might be offended by their shows.
"The audience does have the right to say what it thinks of it. If you do a half-ass job on racial stereotyping and you are lazy about it, you are going to hear about that," said Roger Tang, founder of Pork Filled Players, a Seattle Asian American theater group.
"What you should not say is I have an Asian or Jewish friend and they're cool with it," said Fern Renville, managing director of Red Eagle Soaring Native Youth Theatre.
While some good ideas were presented, Chang expressed frustration at the lack of engagement with the audience. Questions had to be submitted in advance and were pre-selected. Members in the audience were not allowed to raise their hands and participate in the discussion.
Organizers hope to use their forum as a starting point.
"This room seeds the ambassadors, seeds the conversations, each one of us can begin to help move things forward." Valerie Curtis-Newton, artistic director of The Hansberry Project.
Yes, a starting point, but how much will change? Storie of the Gilbert & Sullivan Society announced his group will stage The Mikado again in six years.
Chang put her frustrations this way.
 "I want to have hope for humanity and I do have hope for humanity. I believe we can go places. But until we can get raw and real, dig down deep, look each other in the eye, and sit with it  — I don't think we're going anywhere. Dear Seattle, we can do so much better than this. SO much better."
You can read Chan's piece in the Seattle Times and Chang's thoughts in Multiracial Asian Families and form your own opinion.
You can also watch the entire forum below in this video from the Seattle Channel.