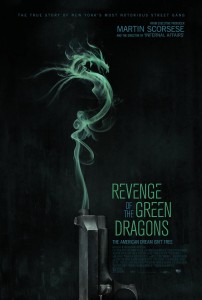 An upcoming action crime drama flick featuring an all-star Asian American cast has finally released its trailer, reports Deadline.
 Asamnews ran the trailer earlier, but this post has a little more information about the movie.
Directed by Andrew Lau and Andrew Loo, Revenge of the Green Dragons is executive produced by Martin Scorsese and follows two immigrants brothers in the Green Dragons gang in 1990s New York. Justin Chon (of Twilight fame) and Kevin Wu (better known as YouTube personality KevJumba) portray the two brothers as they fight to escape poverty and pursue the American Dream. Also starring are Harry Shum, Jr., Ray Liotta and Billy Magnussen.
The film marks a reunion of sorts for Scorsese and Lau, as Lau's Internal Affairs was remade into Scorsese's Oscar-winning 2006 film The Departed.
Following its premiere at the Toronto International Film Festival, Revenge of the Green Dragons will be available for 30 days on DirecTV starting Sept. 11 before hitting theaters in October.
Until then, make sure to check out the trailer below or read more about the film at Deadline.