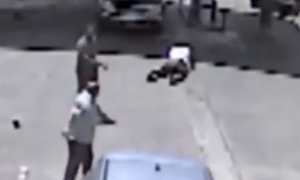 Great story from 8 Asians.
Mayura Dissanayake, an immigrant from Sri Lanka and mixed martial arts fighter, used his MMA skills from stopping a co-worker from being robbed.
He was behind the counter working at a convenience store in Houston when three men mugged a co-worker who had just returned from the bank.
Mayura ran outside, chased two of the men away and held the other until police could arrive.
The whole scene was caught on surveillance camera which you can see above.
Dissanayake has done several interviews about his heroics. You can watch two of them on 8 Asians.