Fictitious and racially offensive names have appeared in a photo caption appearing under a picture of a group of Asian Americans, reports Philly Mag (photo from Philly Mag).
The picture and caption were published in the Philadelphia Public Record and  included such "names" as Chinky Winky and Dinky Doo.
"It was a proofreading error," Jimmy Tayoun Sr., publisher and former city councilman told Philly Mag.
He insisted no prejudice was involved, saying the editor who made the error was a "Britisher."  Apparently Tayoun thinks people from Britain are incapable of racism. That might be news for people who actually live there.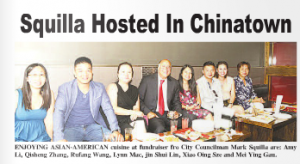 The Philadelphia Pubic Record also publishes a PDF edition which is available on its website. The error does not appear there, so either it was caught in time or has since been fixed.
Nonetheless, there is no acknowledgement of the error online or in the PDF edition. Nor is there an apology.
The incident is reminiscent of the infamous KTVU gaffe during coverage of the Asiana Air disaster. The fictitious names of four pilots were read by a news anchor. KTVU has since apologized.
AsAmNews has contacted the Public Record for comment, and will publish them if we hear back. You can find out more about how the error happened in Philly Mag.