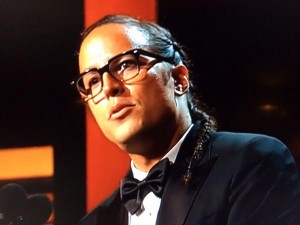 Cary Fukunaga who won the Emmy for Best Director of a drama series won't return as director for a second season of True Detective, reports The Hollywood Reporter.
It was the first Emmy for Fukunaga who has also directed Sin Nombre, Jane Eyre and Victoria para chino .
"This is awesome, and I'm at a loss for words," Fukunaga said.
He directed all eight episodes of True Detective's first season and was rumored to have clashed with show creator Nick Pizzolatto.
According to Variety, Fukunaga will return to film and will be editing his next film Beasts of No Nation until January.
In an Interview with the American Prospect in January, Fukunaga said:
"One of the things that I hope gets communicated [in True Detective] is the concept that our idea of free will isn't as free as we'd like to believe. That we all sort of pump into a much larger system. And the things we choose to let bother us, the idea of self-importance, the pursuit of happiness … it's never said outright … but the whole concept is sold to us, and we buy it. It's as subtle as just placing our location around these refineries, the human being functioning under this cloud of industry and pollution."
You can read Pizzolatto's comments on his rumored clash with Fukunaga in The Hollywood Reporter.
You can read about why True Detective didn't win more Emmys in Variety.
You can read the entire interview with Fukunaga in American Prospect.
Related Story: Japanese American Emmy Winner Becomes Instant Sensation