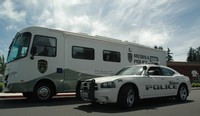 A jury has ruled a former Asian American police chief in Washington State was not a victim of discrimination, overturning a previous ruling, reports Northwest Asian Weekly.
In that ruling, a jury awarded former Medina police Chief Jeffrey Chen $2 million dollars, but the verdict was set aside and a new trial ordered because the judge in that case determined Chen's attorney had violated a pre-trial order.
Chen claimed the city fired him due to his race. The city counter he was fired for using city credit cards for his own personal use, voiding traffic tickets for influential Medina residents, and trying to access the city's email archive without authorization.
Chen charged in his suit that Medina City Manager Donna Hanson made racially insensitive remarks to him such as "I thought you Chinese people were supposed to be more patient than this," and "Do you people celebrate Thanksgiving?"
The city called the accusations baseless.
There's no word on whether Chen plans to appeal the jury's ruling. During the second trial, Chen's attorney argued her client's career has been destroyed. You can read about that in Northwest Asian Weekly.
Related Story:  Asian American Coalition Backs Fired Police Chief