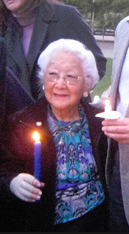 The Long Beach Press Telegram reports a school has been renamed for Japanese American and former Long Beach mayor Eunice Sato.
The Long Beach Unified School Board voted unanimously to rename Hill Classical Middle School Eunice Sato Academy of Math and Science.
In 1980, Sato became the first woman ever elected Long Beach Mayor, according to the City's official website. Prior to that, she served on the city council for more than 11 years.
 She fled the state to Colorado to avoid being incarcerated during World War II.

"This will be the first Asian American/Pacific Islander that any of our schools have been named after," said retired teacher Cliff Kusaba.
The Sato Academy will be a magnet school.
You can read more about the decision to change the name along with the vote to name another school after a noted African American in the Long Beach Press Telegram.