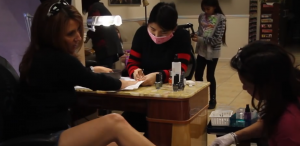 The Center for Asian American Media has awarded $147,000 in funding to seven documentaries in the works, reports the Examiner.
All the funded projects are slated to air on PBS.
"These independent films represent the best of independent documentary storytelling by and about Asian Americans," says CAAM Executive Director Stephen Gong. "We are excited to partner with them and showcase them to a broad national audience."
The seven films are:
 NailedIt: Vietnamese Americans & The Nail Industry by Adele Pham/Producer I. Adele Ray
 Giap's Last Day at the Ironing Board Factory by Tony Nguyen/Producer Steven Okazaki
The Last Season by Sara Dosa/Producer Josh Penn
Like a Rolling Stone: The Life & Times of Ben Fong-Torres by Suzanne Joe Kai
Rightfooted by Nick Spark/Producer Mona Lisa Yuchengco
Last Days in Vietnam produced by Rory Kennedy for American Experience
Tough Love by Stephanie Wang-Breal/Producer Carrie Weprin & co-producer Ursula Liang
Tyrus Wong: Brushstrokes in Hollywood by Pamela Tom/Producers Gwen Wynee and Tamara Khalas/Co-producer Linda Barry
   You can read a synopses of all these films in the Examiner.
You can watch clips from some of the films below.