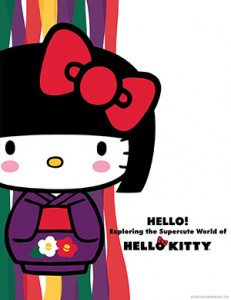 The Japanese American National Museum in Los Angeles will celebrate the 40th birthday of Hello Kitty with a much anticipated exhibition next month.
The Guardian reports in doing research for the show, JANM learned something that may shock all but the most devoted Hello Kitty fans. the world cultural icon is not a cat.
According to Sanrio, the character's parent company, Hello Kitty is a cartoon girl, not a cat. She's never depicted on all fours and her name is Kitty White. She is the daughter of George and Mary and has a twin sister. Both are forever in the third grade, frozen in time.
Hello! Exploring the Supercute World of Hello Kitty will be the first museum exhibition in the world looking back at Kitty's 40 years. The exhibition will coincide with the first Hello Kitty Con which will be held October 30 – November 2 at the nearby Geffen Contemporary at Museum of Contemporary Art (MOCA). Her actual birthday is November 1.
"Hello Kitty is a beloved icon, both within the Japanese American community and globally," said Greg Kimura, President and CEO of JANM.
The exhibition will run October 11 through April 26, 2015. You can get a preview of what you can expect at the show in the Guardian.