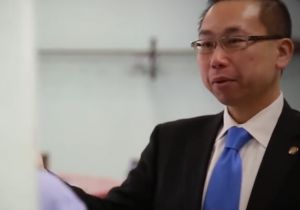 Republican Allan Fung advanced to the general election in the Rhode Island Governor's race, defeating businessman Ken Block 55 to 45%, reports WPRI.
Fung is the mayor from Cranston and will face Democrat Gina M. Raimondo in the general election.
Clay Pell, the husband of Olympian Michelle Kwan, placed a distant third in the Democratic primary for Governor.
"As a native Rhode Islander, I share their concerns, their pains," Fung said after his victory speech. "I've lived it throughout my life. … I'm the proud, proud son of immigrant parents and lived the American dream. I want that same opportunity for the next generation of Rhode Islanders."