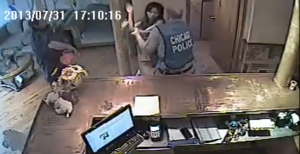 You may recall an incident in Chicago in which police raided a tanning parlor and slapped a 110 pound woman screaming "You're not a fucking American! I'll put you in a UPS box and send you back to wherever the fuck you came from!"
Angry Asian Man reports a settlement has been reached in a police brutality case filed by the woman, Jianqing "Jessica" Klyzek, a naturalized American citizen from China.
The Chicago City Council Finance Committee approved a $150,000 settlement of a lawsuit. The city attorney says the video shows Klyzek resisting arrest, but warned the police officer's remarks could inflame a jury.
What's happened to the officer accused in this incident? You can read about that in Angry Asian Man.