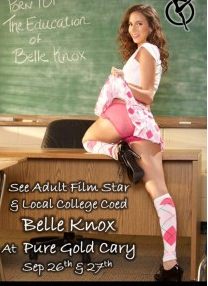 Duke student Miriam Weeks who appears in pornography as Belle Knox to fund her education spoke out about the high cost of education, reports the American Bazaar.
Weeks was invited by the University of North Carolina's Student Union to give a lecture which was attended by about 100 students.
"I felt that being screwed on camera was the best way to avoid being screwed by the higher education system," Weeks said. She called for reforms so that families are not priced out of a good education. "The American dream is becoming more and more unattainable."
You can read about what the students thought about her message in the American Bazaar.