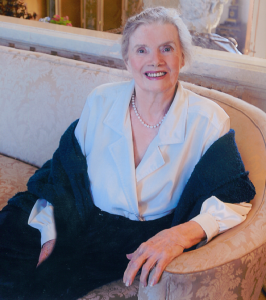 Lillian Lincoln Howell who launched  the first Asian language TV station in the country, KTSF in San Francisco, is dead at the age of 93.
Her family says she died peacefully in her home in Santa Clara Valley south of San Francisco on August 31.
"My mother was a visionary in the broadcasting industry and a generous philanthropist," said her son, Lincoln Howell, KTSF CEO. "She took big risks in her life and created our station's mission: to serve the underserved. That she did and as her legacy, that we'll continue to do."
She applied for a commercial television license in the San Francisco market in the mid 60's. KTSF finally launched in 1976.  It's programming was designed to reflect the diversity of the Bay Area's Asian American community. Under Howell's ownership, KTSF became the first television station in the United States to focus on Asian-language and other ethnic programming, offering programming in 12 different languages.
Current General Manager Michael Sherman joined the station four years later.
"We all clearly understood her mission and that is what we worked for," Sherman told AsAmNews in an email.  "She chose to provide programming to the Asian American audience because no other station was running Asian programming. She felt that the Asian community should have access to news and programming in their own language. She started in 1976 with Chinese and Japanese programming since those two groups were the largest here at that time."
Over the years, KTSF responded to the changing demographics and began adding live newscasts in Cantonese and Mandarin.
Her vision paid off. In 1976, Asian Americans made up only five percent of the Bay Area population. Today the television market's Asian American population is more than 23 percent. That's the third highest in the country behind Los Angeles and New York City.
"The reason that no other station was running Asian programming in 1976 is that it was not a viable business," said Sherman.  "The two things needed to make a commercial station successful – 1) a large enough viewership and 2) advertisers that see value in that viewership – did not exist in 1976. But her mission was not to make money – it was to serve the community. She covered all expenses until the station finally became profitable in 1985. Even then she didn't care about the money. She just wanted to make sure we were serving the community properly."
Some of those profits have been poured into Lillian Lincoln foundation which funds documentaries on everything from land reform in Taiwan to a cultural exchange between American and Vietnamese theatrical producers.
"Lillian Howell was unique in that she marched to the beat of her own drum and firmly stuck to her own beliefs, regardless of popular convention," said her daughter-in-law Barbara Bissell-Howell. "It wasn't profits that motivated her interest in buying a television station, but rather helping the community Even as she approached the age of 90, Lillian continued to attend weekly manager meetings at the station. As owner, the welfare of her employees was always a priority."
She was born in Cleveland, Ohio and was the eldest of three children born to inventor John Lincoln and wife Helen.  She moved to the San Francisco Bay Area after separating from her husband Carl Howell in 1957.
Howell is survived by her son, Lincoln Howell, her daughter in-law, Barbara Bissell-Howell, her granddaughter, Alisha Howell, and her brother, David Lincoln. Following a private funeral, plans for a public memorial will be forthcoming.