The red light is flashing.
The sirens are going off.
Could white women with geisha outfits and scotch tape over their eyes be far behind?
 Jezebel reports the Metropolitan Museum of Art has chosen its theme for the 2015 Costume Institute Gala.
It's Chinese Whispers: Tales of the East in Art, Film & Fashion.
Warns Kara Brown in her blog in Jezebel, "I'm excited by the idea of Chinese fashion designers getting some shine on a huge platform, but I have little to no faith that this won't turn into one big appropriation and cultural insensitivity parade."
Can you just imagine someone pulling up in their limo, the door opens and out comes someone resurrecting Katy Perry from the American Music Awards.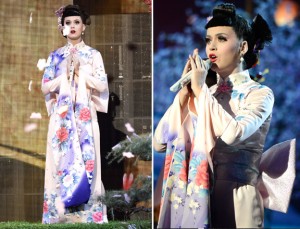 What do you think. Is it time to sound the siren on cultural appropriation?

Read Jezebel and let us know what you think.