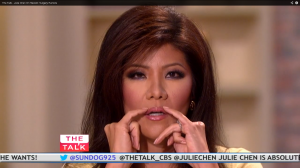 Several Asian Americans who underwent the knife to enhance their appearance with cosmetic surgery says their decision has nothing to do with race, reports Neon Tommy.
The growing popularity of the procedure among Asian Americans has drawn criticism from some in the community that those doing it are trying to rid themselves of their Asian features.
It's the type of comments that got even louder after CBS host Julie Chen acknowledged she had surgery done to her eyes early in her career after comments from her boss about her appearance.
"My girlfriends got their eyelids done because it brightens up their face. It makes them look younger, said Son Kim who's Korean American and has had breast augmentation surgery. "It's a non-invasive, very simple surgery. I don't think it's Westernizing at all. I think people are proud to be Asian. It's not trying to look Caucasian. They just want to look prettier."
She said her surgery was not done to give her bigger breasts and her doctor understood that.
"I don't want to have big boobs. I want to feel comfortable in my clothes. I'm petite. I do not want these huge breasts," she said.
Julie Chen says she's heard it all before. "It was comments like, 'Way to give in to the Western standards of beauty.' 'You're denying your heritage. You're trying to look less Asian,'she told E. Guess what? I don't look less Chinese! I'm not fooling anybody here."
You can read comments from Kim's cosmetic doctor and a Korean American from Korea where the procedure is quite popular in Neon Tommy.