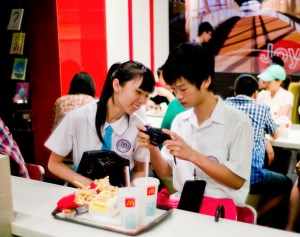 Asian American men appear to be moving up in the dating world, according to 8 Asians (Photo by Ding Yuin Shan).
In the past, Asian men have ranked so poorly on online dating sites that even Asian American women have ranked them below white men in preference.
But data from OK Cupid indicates that's changing.
In 2011, Asian American women preferred white men to Asian men by a 19 percent margin.
In three years, there's been a dramatic turnaround with Asian women preferring Asian men by 6 percent over white men. That's a remarkable 25 percent swing.
So what's changed?  Blogger Leeland Lee writes it has something to do with Jeremy Lin. You can read about that in 8 Asians.