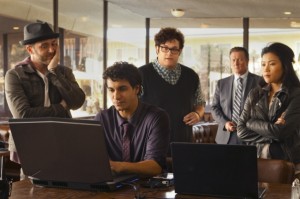 The CBS show Scorpion will debut Monday with  an episode directed by Justin Lin.
Its the first TV pilot ever directed by Lin who earned wide acclaim for  the Fast & Furious franchise which he took over with Fast & Furious: Tokyo Drift.
IGN talked with Lin about why he took on Scorpion.
"When I left the Fast franchise, I think the first thing I wanted to do was try something completely different," said Lin.  "And I didn't want to be the director with a script that came in and directed the pilot; I wanted to see what the TV business was like. So I set out to do that."
Just like Fast & Furious, the premier of Scorpion will include an action sequence involving cars. He promised the action would be motivated by the characters.
"I feel like every beat in the action sequence has to be earned. So in crafting it, my approach is never in saying, "Oh, we need an action sequence." My whole thing is about trying to create a scenario where we actually get to know the characters more."
You can read the complete interview including his thoughts on the casting of Scorpion and working with a real life genius on IGN.