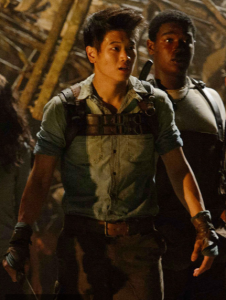 This weekend's movie box office hit The Maze Runner boasted a Friday take of $30 million dollars.
The story about a group of boys trapped in the Glade and forced to try to escape through the maze features Ki Hong Lee in his debut feature film.
The Korean American was born in Seoul and came to America when he was 8. He plays Minho who is described as the Keeper of the Runners.
"I went to read for the casting director several times," he said to
Audrey Magazine
. "We got close to booking, but it didn't happen. Then we sent a final tape to the producers around Christmas time [in 2012]. I was literally sitting at home waiting by the phone. … But there was no answer. So when 2013 came, January and February goes by and still nothing."
  When he finally got the part, he was floored. He credits director Wes Ball and casting director Denise Chamian for pushing for him.
  Lee says his parents have been very supportive of his career. You can read about his early career as an actor in
Audrey Magazine
. You can see him in action in the trailer below.