After a four year absence from the big screen, the woman many have dubbed the most beautiful women in the world is set to make her big screen comeback next year.
 AEG reports that Aishwarya Rai is set to appear in several films next year. Rai will appear in Zajbaa with Sanjay Gupta as director. She is also working on a movie with director Mani Ratnam in an untitled film.
The former Miss World took a break after the birth of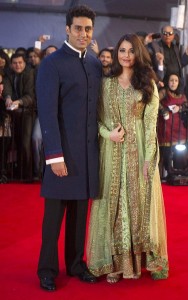 her first child in 2011. She and her husband Abhishek Bachchan (pictured) named their daughter Aaradhya, but fans named her "Beti B because it took the couple four months to name their daughter, according to Wikipedia.