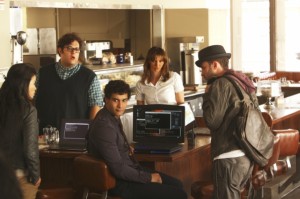 The new television series Scorpion aired Monday night on CBS and the plot and dialogue were, do I dare say it, fast and furious.
Directed and executive produced by Justin Lin, the show was both intense and character driven.
 Scorpion is not a show that will allow you to surf the web while watching television. It demands your complete attention otherwise you'll risk missing a key plot point.
Indian Brit Eleyes Gabel plays Walter O'Brien, a genius with an IQ of 197. He leads a team of high tech security experts which includes Chinese Canadian Jadyn Wong as Happy Quinn, a confident member of the security team with a gift for picking locks and a sassy big city accent.
In one of the early scenes, O'Brien band of geniuses gets a visit from one of Walter's old nemesis– Homeland Security  Agent Cabe Gallo as played by Robert Patrick. He offers each of the team members $50,000 if they help fix a security glitch that has knocked out communications at LA's three area airports. If they can't fix it, 56 planes are at risk of going down.
Walter's team has no time to get to the airport. The first plane is due in 89 minutes. They take up office at a nearby diner that happens to have wifi, and more importantly, American Idol alum Katharine McPhee. She plays Paige Dineen, a waitress who's a single mother to boy genius Ralph. All Paige knows is that she has trouble communicating with her son. It's Walter who tells Paige her son is a genius and it's Walter and the other team members who are able to get through to her son.  After all–it takes geniuses to understand a genius.
Time is of the essence, but Walter finds time to flirt with Paige while diagnosing the problem. He and Paige eventually race to the airport beating red lights and dodging traffic along the way. Walter must somehow find a way to download bug free software from a plane flying in the air. After a failed attempt, he commanders a Ferrari and races underneath the plane as a co-pilot drops a cable  and the plane buzzes by the Ferrari while managing not to hit the ground and crash.   Its one of the best, if not the best high speed sequences, I've ever seen on television.
This is Justin Lin's first television pilot. It's not known if he'll be brought back to direct another episode, but IMDB has him listed as executive producing at least four episodes of Scorpion this season.
The show was worth watching just for the closing action sequence alone. Its not something a television series is known for and it's unlikely a sequence like that can be repeated in future episodes in this day of budget conscious television.
For the show to succeed, it'll have to keep the same intensity of the pilot while relying  on the development of the characters. After the success of their first Homeland assignment, Walter's team is hired by Homeland Security and they bring on Paige to help them communicate with the real world because as everyone knows, geniuses aren't the best at talking with normal people.
That was a big leap, but one the audience is likely to accept because the relationship between Paige and Walter should be a fun one. But will viewers remain interested in the pair and how Paige raises her son? Will the exploits of the Scorpion team keep viewers coming back? Scorpion airs right after Big Bang Theory which attracted 20 to 24 million viewers each week last season. That kind of lead-in gives Scorpion a big head start. One that CBS is counting on it holding.
Related Stories:
Scorpion, Fresh Off the Boat Make Yahoo's Top 11 New Show List
kid, Walter, arrested for hacking into Nasa. Says he wanted shuttle blue prints for the wall.
flashback–
Walter breaking up with girlfriend
decision tree
genius
sees another kid that reminds him of him
gets a visit from Homeland Security
Federal agent Cabe Gallo
automatic software upgrade in LAx communications tower knocked out all communications
$50K for each of them==all four
Elyes Gabel …
Walter O'Brien
Katharine McPhee …
Paige Dineen (waitress) son ralph
Robert Patrick …
Agent Cabe Gallo
Ari Stidham …
Sylvester Dodd (fat guy)
Eddie Kaye Thomas …
Toby Curtis (guy with mustache)
Jadyn Wong …
Happy Quinn (sassy girl with an urban accent. great at picking locks)
Walter OBrien to Cabe Gallo: YOu cross me on this and in less than an hour, I will erase you
No need to go to LAX. Just need a wireless signal. Head back to cafeteria. Executive Producer Justin Lin
Diner commandeered for national security
89 minutes to first plane goes down
dialogue fast and furious and is the plot
finds time to flirt with Paige Dineen (Katherine McPhee), mother of a genius who reminds Walter of himself.
need to find a phone on a plane with analog phone that ahsn't been turned off