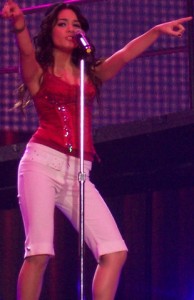 Vanessa Hudgens fears that leaked nude photos of her could jeopardize her career, reports Yahoo.
Hudgens is among the latest group of celebrities whose photos have been leaked online by hackers.
Celebrities victimized in the latest round of hacking include  Gabrielle Union and Meagan Good. There have been possibly more than 100 victims in this case being investigated by the FBI.
A source quoted by Hollywoodlife.com said "With these new photos out, in her (Vanessa's) eyes she thinks it taints what people might think of her when it comes to producers and decision-makers for her career."
This is the second time nude photos of Hudgens have appeared on line without her permission. It happened to her in 2007 during the height of High School Musical mania.
You can find out more about the celebrities being hit in Yahoo.