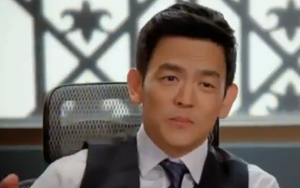 John Cho perhaps is the unlikeliest of leads for ABC's new rom com, Selfie.
The show which debuts Tuesday features Cho in a part originally intended for an older British actor.
Selfie is a modern day take on My Fair Lady . He plays Henry, an up and coming marketing executive known for crafting a positive image of the most publicly hated clients. His co-worker Eliza Dooley as played by Karen Gillan finds herself the object of ridicule after an embarrassing incident involving her goes viral on social media. Karen convinces Henry to help craft a new image for her and change her life around.
NPR reports as casting progressed, it became more apparent to the show's creator Emily Kapnek that the character's race was not important.
"We just need a brilliant actor — and John's name came up." said Kapnek. Cho comes with an impressive resume which has seen him star in the Star Trek reboot, as Harold in the popular Harold & Kumar movie serial and in the short lived TV series Fast Forward.
So how has Cho avoided typecasting and will the race of this Korean American actor be a factor in Selfie? You can read about that on NPR .