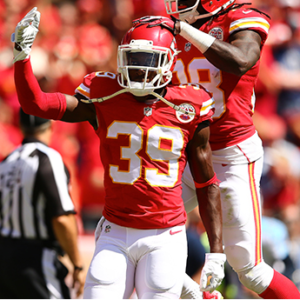 It seems these days debating the penalties called by the refs in an NFL football game has becomes America's past time (photo from KCChiefs.com).
The latest debate has nothing to do with a roughing the passer call or a questionable holding penalty, its the 15 yard penalty called against Kansas City Chief Husain Abdullah after he celebrated his interception return for a touchdown by praying like a Muslim, according to Arab Daily News.
Wrote the Daily News:
Upon reaching the end zone for the touchdown, Abdullah, a practicing Muslim, slid down onto his knees. He bent his head down to the ground touching his forehead to the grass and prayed. The way Muslims pray. It was just a moment. And it was no different than when Christian football players pause to make the Sign of the Cross, or to clasp their hands in prayer, the way Christians pray.
.
The NFL this morning said its referees made a mistake in penalizing Abdullah for unsportsmanlike conduct, according to KGO-TV and ESPN.
You can watch Abdullah's touchdown celebration and see for yourself on Arab Daily News.
What do you think?
(NOTE FROM EDITOR: THIS STORY HAS BEEN UPDATED TO INCLUDE COMMENTS FROM THE NFL).