By Shirley N Lew
"Neither snow nor rain nor heat nor gloom of night stays these couriers from the swift completion of their appointed rounds."
That's the unofficial creed of the United States Postal Service inscribed at the James Farley Post Office in New York City. It's a motto also fitting for Kevin Taejin Kreider who recently set out on a childhood dream to skateboard across America. He not only braved the elements of weather and tough terrain, but overcame setbacks in his career and health while crossing America on a Penny Skateboard.
"Just when I felt I was on the road to being an established actor and model, I lost all my hair in two weeks and I felt trapped, " Kevin explained to me during our telephone interview.
Kevin, a model, actor and personal trainer began to lose his hair last spring due to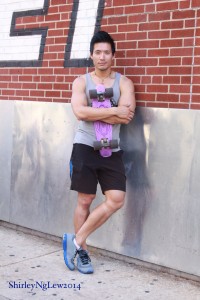 an autoimmune disease called, "alopechia areata." Feeling despair because he could no longer model or act, he set his heart on fulfilling his childhood dream to pass the time. He just needed to do something to get his mind off of what was dealt to him, even though he had never skateboarded before. Determined as he was, he departed from Venice Beach, California on April 15. I am sure he did his taxes before he left.
After two weeks,  he said he almost forgot about his hair loss. Instead he spent his time contemplating the question many asked along the way."Why are you doing this?" He didn't have an answer for them. Some of the locals he met along the way will be included in his documentary.
"I didn't know why I was doing this. I just wanted to get away to restore my health and to see America for what it was. I wasn't trying to inspire others, but I ended up talking and helping people understand the struggles in our lives. We all have borders, obstacles and barriers. I told the people I had a huge obstacle in my career, " said Kevin.
To his surprise, Kevin's hair grew back shortly after he began his trip. He told his father who lives in Philadelphia, Kevin's hometown, that he needed a haircut. A woman even told him his hair looked really cool.  His Facebook photos show a full head of hair by his mid-July arrival in Philadelphia.
"What's very odd is that I always told myself when I was bald that I would have even more confidence if my hair grew back and it's not true. I'm just as confident as I was before. The last month of being bald I really grew into it and was getting comfortable and confident with it. Now that I have my hair back, I feel the same actually, " Kevin shared.
During his skating trip, eating habits were not so healthy at the start. He said he was offered food often, but also ate at a lot of pizza buffets. Eventually that diet caught up with him, making him sluggish and heavier. After changing to a much healthier diet, he was able to accomplish more miles with less fatigue.
Despite bad weather in Wyoming and Nebraska, falls from his skateboard, and having every local and state police questioning what he was doing, Kevin eventually arrived in his hometown of Philadelphia in mid-July. His father met him there, but Kevin's stopover was brief as he set off for his final destination of New York City.
Kevin admitted that this was a poorly planned trip, but it was for the best. He was anxious to get the trip
started the night before and thrived on the spontaneity. He explained that if he spent too much time on the logistics, other events in life may creep up in the interim causing him to delay or cancel his journey. He said he might have even changed his mind, so he wanted to leave quickly.
Kevin had two friends that supported him on the entire duration of his journey by driving ahead or behind him with a car stocked with water and other necessities. Kevin even had sponsors that supplied him with several replacement skateboards and sneakers. On his Facebook page, he gives thanks to those that supplied him with a bed. I would too. Sleeping in a car and pitching a tent, which he had done a few times is not what I would call comfy.
A few days after our telephone interview, I met Kevin in Philadelphia at The 12th Street Gym he works at as a personal trainer. He was wearing typical gym garb of a fitted tank and gym shorts.  And, why not? We're at a gym. This wasn't going to be like the photo shoot he did just a week earlier for Men's Health in New York where he wore a suit.
As soon as I saw Kevin I thought his hair looked pretty good. I was tempted to run my fingers through it. Really.
"So, how many haircuts have you had so far?" I asked.
"Only one," Kevin replied.
He's pretty tan, most likely a result of his trip and still in fit condition in my opinion. However, he said he lost some muscle mass, but I'm sure he'll have no problem gaining all that back as a personal trainer. Too bad I don't live in Philadelphia. I could use a personal trainer like him to get rid of my trouble spots.
We took several indoor and outdoor shots and spoke during our search for a local park for more photos.
As we walked, I told him that I sensed what he's been sharing with me, that what's next  for him in life is still an on-going mission.
We both agreed that some people expect a spectacular ending with celebratory fanfare as in the movies when a mission or quest has ended. However, he's not clouded by such fairy tale endings of "happily ever after." He's a realist in a sense that he is focused on what might be next for him and how he should respond to it.  He tells me that he needs to do what is right for him instead of others telling him what he should be doing.
Anyone completing a cross-country trip on four tiny wheels or even on two feet to help clear one's mind is no reason to think that there should have been immediate answers at the finish line or feelings of triumph even in the days after. Kevin said he experienced neither.
Kevin became friends with Jessica Goldman, a woman from San Francisco that ran across America. They both began their journey on the same day. He said he found some emotional support from her and she helped clear his mind.  They never met till they both crossed the George Washington Bridge together on July 15 and finally arrived in New York City.  They are still friends.
Kevin and His Skateboard is currently in post-production. If you are a good editor, Kevin is looking for you!  If you are interested in offering your expertise and being involved on this documentary, you can contact and/or follow Kevin on Facebook, search "Kevin And His Skateboard" or on find him on Twitter at @KevKreider.
Kevin, thank you for your time, the photos and for meeting me.  I'd also like to thank The 12th Street Gym in Philadelphia, located on 204 South 12th Street for allowing me to shoot photos on their premises. You can see more of Kevin in an upcoming winter issue of Men's Health and in a new Chinese Cadillac commercial.
[photoshow]