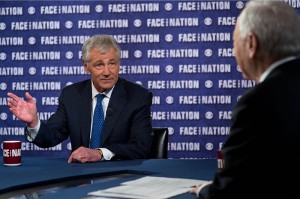 Asian Americans are so rarely mentioned on the Sunday television talk shows that its possible to break down each mention separately in a 27 page report.
A report by Change Lab found Asian Americans received just 13 mentions in a six month period from Jan 1 to June 30, 2014.
Researchers combed the transcripts both manually and electronically of the so called big five Sunday shows, Face the Nation (CBS), Fox News Sunday (Fox), Meet the Press (NBC), State of the Union (CNN), and This Week With George Stephanopoulos(ABC).
The report found of the 13 mentions, Asian Americans were mentioned as part of a list. Here's an example:
"Look at the electorate today. I mean, you have Indian
Americans, Asian Americans, Mexican Americans, African
Americans saying we're voting for our candidate, this is our country," said Former U.S. Secretary of Health, Education, and Welfare under President Carter, Joseph Califano, Jr.
There was no further elaboration. In other words, in 11 out of the 13 mentions of Asian Americans, Asians were just a passing reference.
The report concludes:
"It's about time that Asian American stories get told, and not
just to benefit Asian Americans. Until our stories are told, our understanding of the experiences and political behavior of
every other racial group in America is incomplete. The stories
of Asian Americans – dealing with war, migration, assimilation
and upward mobility, and enduring poverty and exclusion – are
critical to the story of race in America. Excluding these stories
from public discourse obscures important elements of political
and social life in America that we believe are relevant to all of us,
regardless of race."
You can read the reports recommendations on Change Lab.