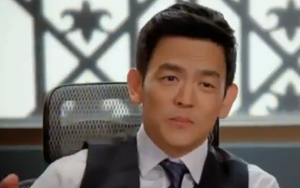 Much has been made of John Cho getting the lead role in ABC's new romcom, Selfie.
Cho himself has called the casting "revolutionary," acknowledging that Asian American men don't get many lead parts, let alone one that could lead to a romance.
It remains to be seen whether Cho will get an on screen kiss with his co-star Karen Gilan. It's not something you see often on TV or the movies, but Cho's role is already a sharp contrast to 2 Broke Girls' Han Lee — a hurtful reminder of Long Duk Dong in Sixteen Candles and Mickey Rooney as Mr. Yunioshi in Breakfast at Tiffany's.
Even when Asian American men are given positive roles, the characters are usually asexual. Hollywood has managed to turn Asian American men into a punch line and little has been done to change that over the years.
Blogger Alex Jung broke down the 6 different ways Asian American men can get some on screen action. You can read about it in Vulture.
You can catch Selfie Tuesday nights at 8 on ABC.