Representative Mike Honda will square off tonight in the only scheduled debate with his challenger and fellow democrat Ro Khanna in the race for the 17th Congressional District.
Depending on which candidate you talk with, the District encompasses either Santa Clara Valley or Silicon Valley.
Khanna refers to his district as the later, reflecting his roots as an intellectual property attorney for many high tech firms. Honda says he wants to represent all of Santa Clara Valley, not just the interests of the technology companies. Much of Khanna's support has come from the high tech industry. Honda, a 7 term incumbent, has the endorsement of big name democrats such as President Obama and Nancy Pelosi.
Khanna launched his campaign with a big fundraising advantage largely from contributions from the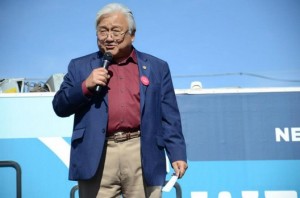 technology industry, but he fell behind in fundraising after spending most of his money in the primary.  He came in second place, 20 percent behind Honda–48% to 28%.
But Honda has failed to win any endorsements from the major Bay Area newspapers. He's been criticized for agreeing to only one debate and he's accused of mixing district work with campaigning.  A former staffer leaked emails to the alternative paper the San Jose Metro suggesting Honda pressured his staff to work on his campaign during office hours, a violation of ethic campaign laws if true. Honda's spokesperson said the office should have been more careful, but denied any ethic laws were violated.
The debate can be seen online at 6:30 pm tonight Pacific Time on Huff Post Live and on KNTV in the San Francisco Bay Area.