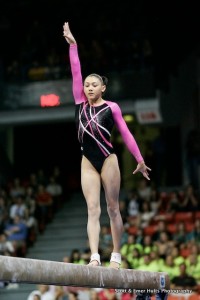 Olympic Gold Medalist Kyla Ross has won her first gold medal in Worlds in Nanning, China Wednesday, reports the Orange County Register (File photo from 2012 Secret U.S. Classic Senior Competition).
It was the second straight gold medal for the United States, becoming the first team to win back to back championships in a decade.
Ross lead off for Team USA in three of four events.
"I was glad to be able to contribute to all four events. I know it was crazy when they told me I had to do all four for the team, but I was happy , glad I was able to contribute well," said Ross.
Ross was born in Honolulu, Hawaii. Her father is of African American and Japanese ancestry. Her mother is of Filipino and Puerto Rican descent.
You can watch her entire interview with USA Gymnastics below.