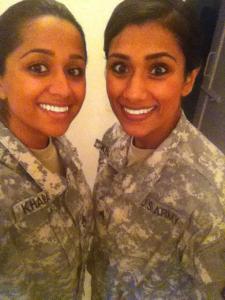 Indian American sisters Balreet and Jasleen Khaira are the California Air National Guard's secret weapons when it comes to India.
The pair served as perfect ambassadors for the Guard during its recent trip to India, according to the American Bazaar.
They participated in joint military exercises between the Guard and Indian Army in Chaubattia Cantonment, India.
Indian soldiers asked the sisters many questions who both answered in perfect Hindi.
"The Indian soldiers obviously love it that we're Indian and in the U.S. Army," Sgt. Jasleen Khaira said. "I think the biggest thing the Indian Army has learned from us is that we don't just move to America and lose our roots. America is very diverse and you have all these populations that do keep their culture while still being part of the larger American culture. You can do both. You don't have to get rid of one to participate in the other."
You can read why the sisters chose a life in the military and more about their training exercise in India in the American Bazaar.