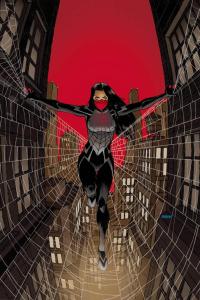 As reported by The Daily News, Marvel Comics announced at New York Comic Con Sunday that heroine "Silk,"  AKA "Cindy Moon," will have her own comic book series.
Cindy is an Asian American from Queens, NY resident with black hair and brown eyes.  She debuted earlier this year in the Spider Man series, "Amazing Fantasy #15." Based on my internet research and on Marvel Comic's website, Cindy's specific ethnic group is unclear, but given that her last name is "Moon," I am guessing Korean? Tell me if you think differently readers.
Marvel Comics reported that their fans were receptive to Cindy Moon and decided to give her her own spotlight.  She will have similar superpowers as Spider Man given that she was bitten by the same radioactive spider as Peter Parker, but Marvel Comics made her a tad superior to Spider Man in some areas. A heroine that can do something better than their male counterparts? Now that's worth reading.
Silk is not the lone Asian in the world of Marvel Comics.  In August, the new Ms. Marvel was reintroduced as a Muslim teenager with Pakistani parents from Jersey City, NJ, and apparently there are a few other Asian characters in the colorful world of Marvel Comics. It's great to know that Marvel Comics is meeting the needs of their diverse readers.
Silk spins out on February 2015 and will be drawn and written by Stacy Lee, one of the growing numbers of female creators in Marvel Comics.
You can read why Silk is controversial in the Daily News.
Will the new characters, Silk or Ms. Marvel entice you to be a comic book reader if you aren't already? If you could be a comic book superhero, what would be your name? Post your comments here and let us know.