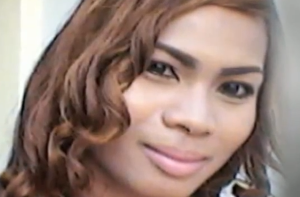 A US Marine and three others have been detained in the death of a  transgender Filipina in Manila, reports ABS CBN.
Motel workers found the naked body of Jennifer Laude in a motel bathroom.
Surveillance camera shows Laude being approached in a bar by four foreigners. Minutes later she checked into the Celzone Lodge with one of the men.
That man is seen leaving the room alone.
Transgender spokeswoman and model Geena Rocero says her community is watching this case closely.
"The handling of Jennifer Laude's murder will represent how justice is served for our community," Rocero wrote in her statement.
Police are investigating two possible motives. One the murder occurred after the foreigner discovered Laude was a transgender woman. But that theory has been discounted since two used condoms were found in the room.
Another theory is that Laude may have tried to steal from the foreigner.
The US Embassy confirms a US Marine is a suspect in this case.

(An earlier version of this story used the word transgender as a noun. We apologize for the error).