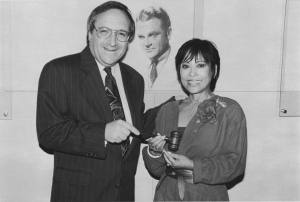 Actress and former interim president of the Screen Actors Guild Sumi Haru is being remembered as an advocate for better roles for Asian Americans (SAG Photo from 1995 shows SAG President Barry Gordon passing the baton to interim president Sumi Haru) .
The Los Angeles Times Sunday published an obit in which the headline read Sumi Haru dies at 75; SAG official sought better roles for Asian Americans.
Haru died Thursday in a hospital in North Hollywood.
According to the Times, Haru played a few small roles in Hollywood, but found her real calling pushing for more representation of Asian Americans in Hollywood. The Filipino American served as president of the Assn. of Asian/Pacific American Artists  in 1981 and was outspoken about the movie Charlie Chan and the Curse of the Dragon Queen which was released that year.
She also refused to even audition for roles she found to be stereotypical.
"She would not play the maid or the dragon lady," said her friendJack Ong, who is also an actor. "She put her foot down."
You can read more about her life and her advocacy for diversity in the Los Angeles Times.