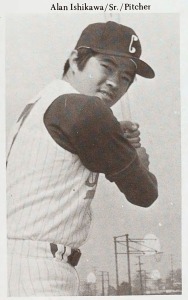 The father of Travis Ishikawa himself played competitive baseball as a youngster, reports author Bill Staples in his blog.
Watching your son hit a home run in the bottom of the 9th in a clinching championship game would make any father proud. But when Alan Ishikawa saw his son do it, it must have had even more meaning.
Alan played baseball for Compton High School in 1970. Three members of that team would go on to play professional ball. Alan was not one of them, but watching your son excel on the national baseball stage is as good as it gets.
You can read more about Alan's experience playing baseball and more on Travis' family in a blog by Bill Staples.