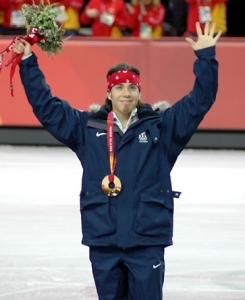 Inquiring minds want to know who's Apolo Ohno's new girlfriend?
Mail Online published several photos of the two frolicking in the ocean waters of Maui.
The two look quite chummy and comfortable together in the photos. At one point Ohno is seen lifting her out of the water in a playful embrace.
The eight-time Olympic medalist in short track speed skating and Dancing With the
Stars
champion was born to a Japanese father and white mother.
Ohno this weekend completed his first Ironman Triathalon in Kona.
You can watch video from that event below and see the photos of Ohno with his new girlfriend in Mail Online.