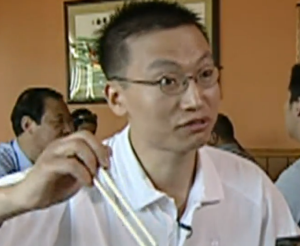 The FBI raided several Chinatown restaurants, including seven owned by celebrity chef Tony Hu (pictured), reported WLS/ABC7.
No specific reason was given for the raids, but the presence of IRS criminal agents has suggested a link to possible financial crimes.
One employee didn't seemed too concerned.
"I think everything ok. Yea, i think it ok. I not worried," said Tommy Wong.
Hu said he had just returned from China and didn't know what was going on.
You can watch a video report of the raid in the clip below from WLS/ABC7.