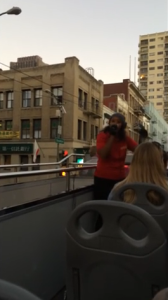 The tour guide who has gone viral with her racist rant during a tour of San Francisco Chinatown has talked exclusively to KGO/ABC7.
The woman who no longer works for City Sightseeing declined to give her name or allow her face to be shown. She told reporter Lisa Amin Gulezian "I intended to do it as a satirical comedic portion of the tour. My intention was to talk about the neighborhood and not to address the people in any way that would incite harm against them."
She acknowledged she may have gone too far.
She requested to talk to San Francisco Supervisor David Chiu who has been outspoken about the incident.
RELATED STORIES
Tour Guide Company Apologizes for Racist Rant. Mayor Lee Says That's Not Enough
Oh, My. So what Does a Racist Tour Guide Really Think
You can listen to their conversation in the clip below from KGO/ABC7.
You can listen to the statement from Sue Lee of the Chinese Historical Society of America about the incident below. Thanks to Alice Wong for bringing this to my attention.